How Do Data Rooms Improve SPAC Process?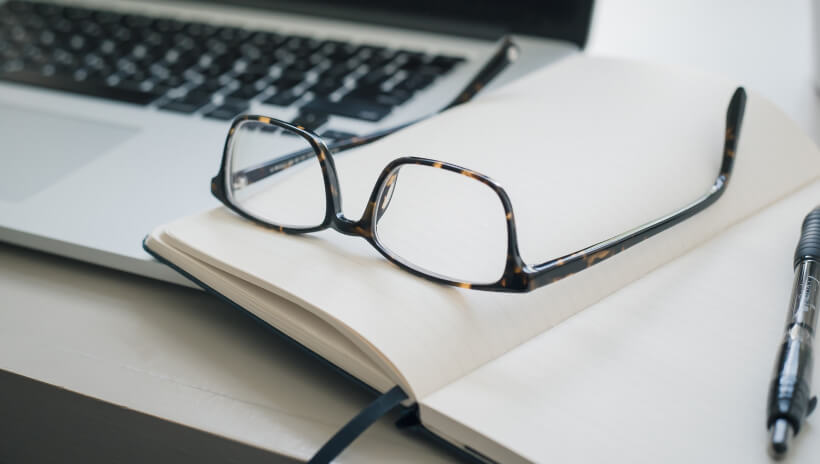 There's no doubt 2021 is the year for SPAC investing. Why? In addition to all the comments from market analysts, the figures confirm it.
In 2020, the funds raised by SPACs totaled $83.4 billion, which, as impressive as this number is, it's twice as large as for the previous ten years. What is even more jaw-dropping is the amount of money that SPACs have raised as of April 2021 — $101.3 billion.
This phenomenon has definitely affected the American financial market. However, how do data rooms enhance SPACs?
To answer this question, it is necessary to understand what SPACs are, how they work, and their advantages.
What Is SPAC?
SPAC is an acronym for special purpose acquisitions company. It is a shell company with no commercial operations, but its primary goal is raising investment capital through an IPO by acquiring an existing private company.
Why have SPACs become so popular?
SPACs investing has been around since 1993 — with kind of a shady reputation. Recent years have brought about some massive changes — the global pandemic caused extreme market volatility. Consequently, IPO activity fell.
Such a situation creates the right time and place for a not-so-new but still rising star — SPAC. Therefore, many companies decided to abandon their IPOs as they found another way of taking a company public by merging with SPACs.
Frank Holmes, the CEO and chief investment officer of US Global Investors, remarks that companies do so as it's easier for them to go public through SPACs than "to jump through the regulatory hoops and get listed on an exchange."
How do SPACs work?
Simply put, created by sponsors who are experts in a particular field, SPACs aims to find a private company to acquire. Leading up to the acquisition stage, SPACs go through the normal IPO process.
The essential difference is that sponsors don't name the target company they are willing to purchase or acquire. That's why SPACs are also known as "blank-check companies."
In case the acquisition doesn't end up materializing within, typically, two years, all the money is liquidated back to the shareholders. This point makes SPACs less risky and, therefore, more popular.
SPAC vs. IPO
The unexpected SPAC boom was the central financial market theme in 2020, and it's still ever-growing. How do SPACs work, and what makes them different from a traditional IPO?
Don Butler, managing director at Thomvest Ventures, explains the modern phenomenon this way: "An IPO is basically a company looking for money, while a SPAC is money looking for a company."
Advantages of SPACs
SPACs are less expensive. Their underwriter fee is 2%, with 3.5% due upon completion; meanwhile, traditional IPOs can run as high as 7%.
SPACs have a time limit. The sponsors have a clear deadline to help expedite the process without getting bogged down with bureaucratic red tape, unlike IPOs.
SPACs investing is faster and more transparent. An IPO's timeline can be years, SPACs usually need several months or even weeks, in some cases, to complete.
There is less risk for investors. The raised funds are saved in an interest-bearing trust account, so in case SPAC fails, they will be safely returned.
Investors can redeem shares back. If SPAC investors don't approve the proposed acquisition, they can still redeem their shares at the IPO price.
Companies can perform their future forecast. In contrast to traditional IPOs, SPACs allow companies to present their revenue and profitability projections.
Disadvantages of SPACs
SPACs don't guarantee success. The target private company might show some potential at first, but it can also easily fail.
Investors might lose their investment. If the acquisition isn't successful within two years, investor money is refunded. However, they still lose their time and may miss out on other potential opportunities.
SPACs are risky. Investors know nothing about the final target company. They can only rely on the founders' judgment and hope they choose the best candidate.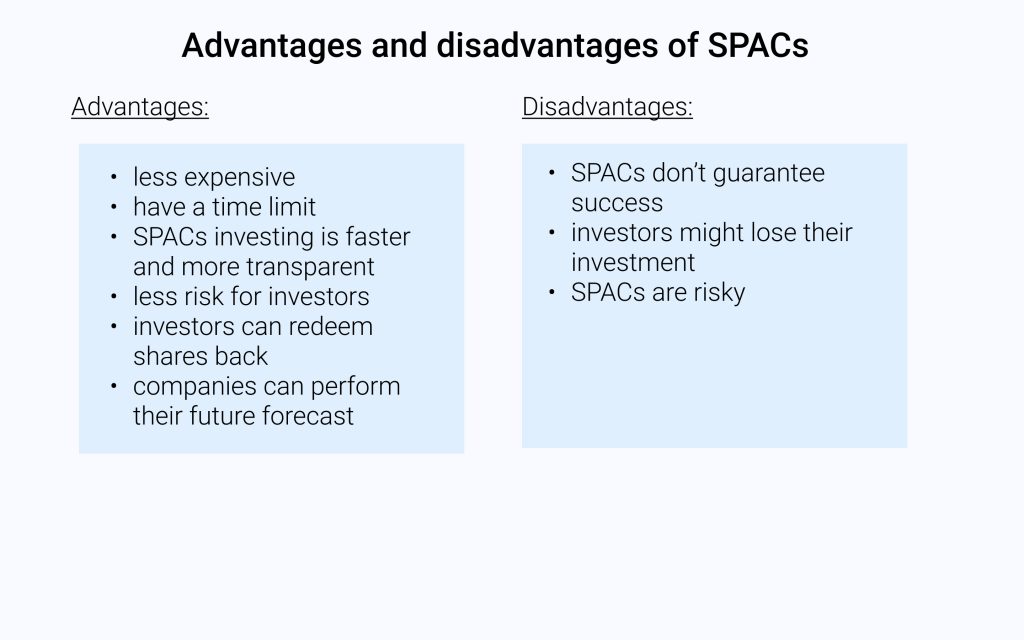 SPAC and data rooms
Of all SPAC benefits, it's clear that a shorter timeline is the most essential. The logic is compelling: the quicker process often means better results and higher returns. To do so, SPAC requires optimizing its lifecycle, which means there may be a need for SPAC software.
This is where data rooms can be more valuable. Using them, SPACs can optimize each needed step of the whole process:
SPAC formation. Data rooms assist SPACs in organizing their content by protecting all the sensitive data at each stage and getting ready to launch their IPO.
Target company search. Data rooms help in managing all info while looking for the right business to acquire. Recording all the data in one place facilitates the search and aids with due diligence.
PIPE stage. Data rooms automate tracking of all the necessary marketing materials to create good communication with potential investors.
De-SPAC. Data-room support grants a level of speed and flexibility to complete the merger and close the deal quicker while meeting deadlines.
Examples of the best SPACs
The list of companies that have gone public is ever-growing. According to SPAC Analytics, there were 248 SPAC IPOs in 2020, with 329 so far for 2021. Here are three of the highest-profile companies that merged together through a SPAC.
Virgin Galactic (SPCE) merged with Palihapitiya's SPAC in 2019. Going public, the company gained $2.3 billion, and its share price rose by 45%.
Nikola Motor Co. (NKLA) merged with VectoIQ Acquisition Corp, upheld by ValueAct and Fidelity. After going public, its valuation reached nearly $28.8 billion.
DraftKings (DKNG) merged with Diamond Eagle Acquisition Corp, bringing the sports betting company's market cap to $2.7 billion. The company's share price rose from $17 to $52.11.
What do all these SPACs have in common? A faster and simpler process of taking a private company public. What is needed for this? First of all, it's all about professional investors.
At the same time, optimizing the lifecycle is also of the essence. Therefore, SPAC software that helps organize a seamless process and complete it in the shortest possible time is a must-have.
Datarooms-review recommends
Top VDR providers
Learn More
Most popular