Investment banking deals play an important role in raising capital for companies. The key role of investment bankers is to match a company and its assets with investors and bidders, who drive the M&A process. They also set mergers and acquisitions trends in certain industries, so their impact is valuable for the clients.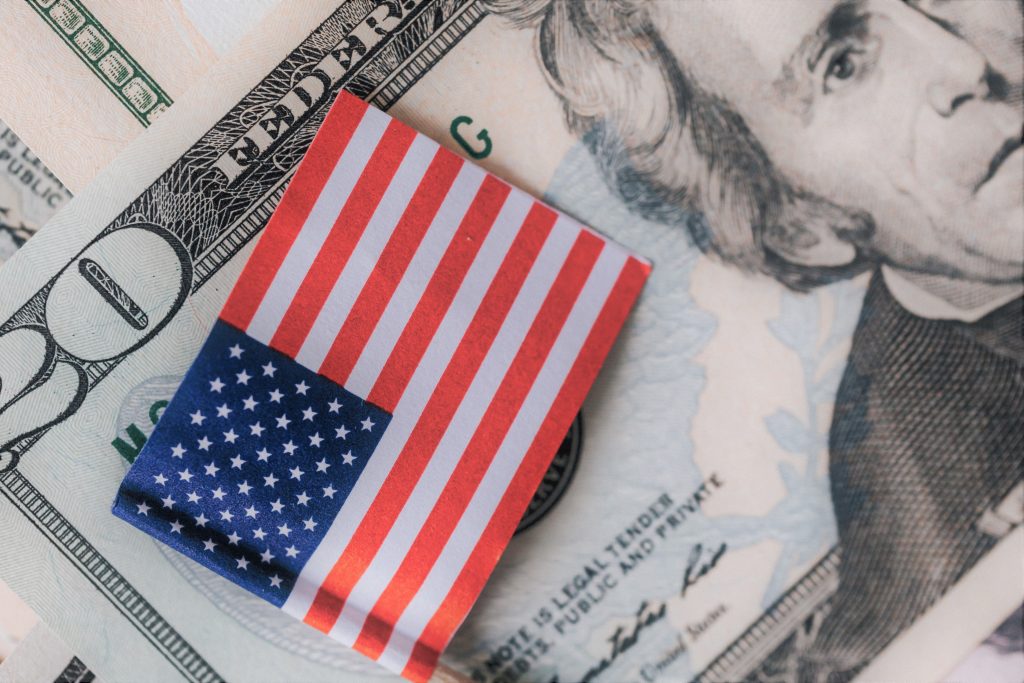 What is investment banking?
A division of a financial institution that provides advisory services for M&A transactions and raises capital is called investment banking. These types of deals are connected with the accumulation of capital for companies or other entities.
Investment banks assist businesses in complex transactions, as they provide guidance in underwriting new debt and equity securities. They also aid in the sale of securities and help to facilitate mergers and acquisitions for corporations and private investors while acting as intermediaries.
Modern investment banking specialties
Investment banking deals mainly with finance and raising capital, it helps businesses bring their shares to the public. Investment banks cater to their clients and also help them to underwrite bond offerings.
Investment banking specialties include:
underwriting debt and equity securities
facilitating M&A transactions
helping with broker trades for both sides
assisting in the sale of securities
What is an investment banking virtual data room?
An investment banking virtual data room is a cloud-based space where important information can be stored and used by multiple authorized parties. A data room for investment banking plays a great role, as it simplifies certain processes and allows investment bankers to have full control of the procedures.
Investment banks are using virtual data rooms to run mergers and acquisitions efficiently. The data room software allows to conveniently store and share documents among users in one or multiple M&A transactions. There are many features in the data room that help users efficiently engage and communicate directly.
This makes the process less time-consuming and eliminates the need to use physical documents or any other platforms, services, or devices for file storage.
Reasons to use data rooms for investment banking
The virtual deal room has many benefits that investment banks can use for handling complex transactions, like mergers and acquisitions. These advantages include: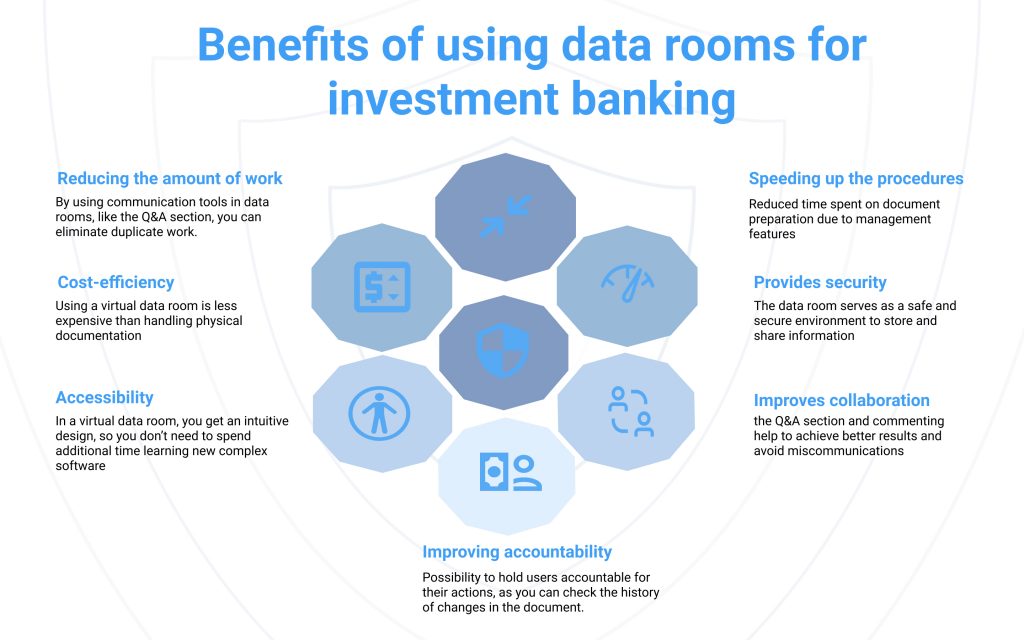 Reducing the amount of work. By using communication tools in data rooms, like the Q&A section, you can eliminate duplicate work. You can easily assign tasks, give certain types of permissions to different users. There is also a convenient indexing system available, which allows you to find the needed document quickly.
Cost-efficiency. Using a virtual data room is less expensive than handling physical documentation and all costs related to the storage and security of those files. The data room providers offer affordable plans, depending on the types of projects you're working on and your needs.
Accessibility. In a virtual data room, you get an intuitive design, so you don't need to spend additional time learning new complex software.
Improving collaboration. With communication features, like the Q&A section and commenting, the engagement between stakeholders is increased, which helps to achieve better results and avoid miscommunications.
Securing documents. Complex deals, like M&A, involve the review of many documents that include sensitive information. Security is the main priority for the data room providers. Compliance with different security guidelines and standards shows the reliability of the data room. The VDR serves as a safe and secure environment to store the company's crucial information, reducing the risk of a data leak.
Improving accountability. The data room tracking and analytics features allow investment bankers to track tasks and processes in the room. It's extremely valuable, as it makes all actions within the data room transparent. As you assign a task to users or give permissions to the files, you hold them accountable for their actions, as you can check the history of changes in the document. Investment bankers can also use data from reports to predict potential issues or interests of buyers and sellers.
Speeding up the procedures. Transactions like M&As can take up much time; they tend to close faster when using a virtual deal room. Due to extensive security, communication, and project management features, less time is spent on document preparation.
How to use data rooms for investment banking
Virtual data rooms can be used in investment banking as strategic tools to handle mergers and acquisitions. All stages of this complex procedure can be handled in one place, and bankers can quickly share or review the documents from the parties involved.
Here's what investment bankers can do in virtual data rooms:
1. Choose the best time for a transaction
Many factors play a role in a successful transaction. These include the market conditions as well. Investment bankers that use data room software have access to information that can help to predict the optimal conditions to close the most suitable deal for their clients.
From activity reports, they see the investors' behavior, which shows their interest and engagement. When the conditions are good, then bankers can quickly close the deal in the data room, where all needed documents are organized.
2. Creating a strong acquisition case
One of the responsibilities of investment bankers is preparing a compelling acquisition case to present to investors. Bankers should understand the company to be able to evaluate it properly.
That's why it's important to have all the needed documents about the client in one place to build a strong case, so there will be a better chance of completing the transaction successfully.
3. Analyzing the interest of potential investors
Using the activity reports from the data room will help create the right approach for investors, as investment bankers have seen their behavior for various documents. Also, this helps to spot suspicious activity to prevent a potential data leak and to protect important information from exposure during due diligence.
4. Preparing documentation for due diligence
The process of preparing documents for due diligence requires collecting the needed documents from the client. The traditional process can take up to a few months, but with a VDR, this process is much quicker and less stressful. The data room provides convenient scanning and indexing features, which help to organize a large number of documents easily.
5. Authorizing permissions for involved parties
When using a virtual data room, investment bankers have security features that allow them to control permissions for various documents. It's very important during the early stages that bankers can give only limited access to specific information. As the process progresses, permissions can be modified to allow users to see more documents.
Tips for choosing the best data rooms for investment banking
When choosing a VDR provider for investment banking, there are certain aspects that you should take into consideration to find the right one. These elements include:
Permission features. These features provide a secure environment for transactions, as the administrator has full control over the process and documents. The ability to change permissions for files at different stages of the process will minimize the risk of exposing sensitive data or falling victim to a security breach.

Project management features. In investment banking, there are many complex projects, which require dealing with much data. That's why it's important to find a good data room to manage multiple projects simultaneously and to have the ability to lead deals for their entire business cycle. VDR software should provide the appropriate environment for you to handle all of the needed tasks.

Security. Check the VDR provider's website to make sure it's compliant with security regulations and guidelines, and provides security features, such as watermarks, permissions, limited viewing, expiration dates, etc. During complex transactions involving the sharing of confidential information, security is the top priority.

Features that are specific for investment banking deals. VDRs can be used in many industries, but for better efficiency, it's good to have specific options for investment banking. You will be dealing with many tasks, such as raising capital, IPOs, private placements, etc., so having features that are suitable for mergers and acquisitions will help procedures run smoothly.
The best data rooms for investment banking
Here are popular data rooms commonly used by investment bankers:
iDeals offers less of the project management features, and therefore, it is more aligned with a traditional virtual data room.
DealRoom. DealRoom is a great option for handling complex deals with its Agile approach. This provider has been used for many big-money deals, as it's suitable for due diligence and M&A processes.
DataSite. It is the data room software provider for M&A transactions. DataSite has clients in over 170 countries that use it for completing complex deals. The provider promises an accessible interface and high-quality 24/7 customer support to solve problems anytime.
EthosData. EthosData has been working with the investment banking industry since 2007. Throughout the years, this platform has been used for thousands of mergers and acquisitions, IPOs, asset sales, and capital-raising campaigns by more than 100,000 users in financial institutions.
When dealing with complex transactions like mergers and acquisitions, it's important to act quickly and to have the documents always available, as there can be opportunities coming, and bankers should be prepared to complete the transaction. The data room for investment banking provides all of the needed features for effective collaborations and successful deals.
For Investment Banking: