Clinked Virtual Data Room
Clinked Virtual Data Room
Intro
Clinked is a British corporate software developer established in 2009 and headquartered in Cambridge.
Clinked delivers an all-in-one business platform that combines the features of a virtual data room, a client portal, and a meeting tool.
This company serves small businesses, mid-sized companies, and enterprises worldwide in the financial, legal, investment, public, and insurance sectors.
Product Screenshots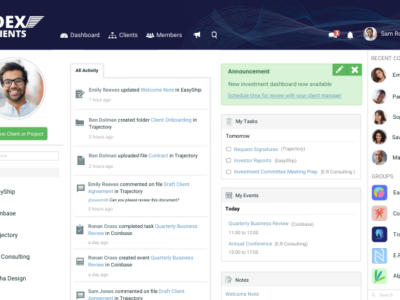 Product Overview
The Clinked data room provides comprehensive features to share files, close business deals, collaborate, hold remote meetings, conduct due diligence, sign documents, and more.
It will suit demanding corporate processes such as company transactions, initial public offerings, seed fundraising, bankruptcy and restructuring, etc.
Beyond that, Clinked is an excellent place to manage workflows and board communications regardless of the business size.
Clinked Virtual Data Room Product Details
Provider's Features Rating
Data was gathered from our users' reviews and data from G2 and Capterra.
Clinked Pricing
Clinked offers four pricing plans, from Lite to Enterprise, suitable for startups and key industry players alike.
The company charges a flat fee monthly, annually, and biennially. You will save up to 35% of your subscription cost by paying every two years.
Clinked Integrations
The Clinked data room integrates with several collaboration tools that vastly expand its capabilities, making it an all-in-one business workspace. You can connect Clinked to the following apps without technical skills:
DocuSign and Adobe Sign
Single sign-on (SSO) via LinkedIn, Google, and SAML Active Directory
Zapier
Integrately
Google apps
JotForm
DropBox
Zoom
GoTo Meeting
Developers can connect the data room to other applications using API integration capabilities.
Thank You, Your Review Has Been Sent!